It's Monday! What Are You Reading? From Picture Books to YA!
These memes were started by Teach Mentor Texts and Book Journeys, to inspire readers to share books they have read and will be reading. I have found many of my current reads by following bloggers participating in It's Monday! What are you reading? Be sure to check out their sites for more information on what they are reading, and learn how to participate.

Last Week's Favorites

:
Title: Ashes
Author: Amy Keen
Review: You can read a more in depth review from me here.
Title: Boy Wonders
Author: Calef Brown
Review:
My children loved the illustrations in this book, but they did not get into the questioning of the story. However, I did enjoy this book because I could see using it to inspire students to ask questions and continually wonder.
Title: Detective Blue
Author: Steve Metzger
Illustrator: Tedd Arnold
Review:
This story brought back some great childhood memories of nursery rhymes! Detective Blue, formerly Little Boy Blue, is searching form Little Miss Muffet. I love the play on words, throughout the interrogation process. I realized how little exposure my children have to nursery rhymes, and they still loved this story!
Title: A Tangle of Knots
Author: Lisa Graff
Review: Anyone who knows me, knows that I love connections that make the world a smaller place. A Tangle of Knots is a story, which gracefully intertwines characters lives into a fluid story line, in turn making the world a smaller place. This would be a great read aloud when teaching predictions, as I found myself predicting more so in this story, than any other story.
Title: Butter
Author: Erin Jade Lange
Review: I can't wait to share this book with students, especially when talking about cyber bullying. Butter, the main character, is over 400 pounds, and decides to create a website where peers can watch him eat his last meal. Butter never expected anyone to notice, but the exact opposite happens. Words can be cruel, especially when said from behind a computer screen. This is an eye opening story about what can happen when joking turns deadly.
Title: Skinny
Author: Donna Cooper
Title: This book also deals with an overweight high school student, Ever Davies, who is being bullied. However, the bully in this story is all within Ever Davies' mind. Self esteem is one of the quickest ways to damage one's self. When I started this story, I thought it would focus more on being overweight dealing with bullying. However, I really appreciated the approach taken by Donna Cooper, to focus on self-esteem and self-concept, and how that can damage a person more than anything else.
Title: The False Prince
Author: Jennifer A. Nielsen
Review:
I have heard nothing but positive reviews for this story, but I am not a huge fantasy fan, so I kept pushing this book to the bottom of my pile. I seriously regret waiting so long to read this story! I was on the edge of my seat throughout this action packed book. Three orphan are training to pretend to be the long lost prince. This is a plan not all of them agree with, but they must pretend to protect their lives. I will say, the best part about waiting so long to read this story...The Runaway King (book #2) has already been released!
Reading Plans for this Week:
Title: The Runaway King
Author: Jennifer A. Nielsen
Title: The Fault in Our Stars
Author: John Green
Title: What Came From the Stars
Author: Gary D. Schmidt
Title: The Raven Boys
Author: Maggie Stiefvater
**I'm listening to this on audio book. This is the first time I've ever listened to one, so I'll let you know how it goes. I downloaded free from http://www.audiobooksync.com/. Check this site out, if you haven't already!
Title: Mustache Baby
Author: Bridget Heos
Illustrator: Joy Ang
Title: Crankee Doodle
Author: Tom Angleberger
Illustrator: CeCe Bell
Title: The Monstore
Author: Tara Lazar
Illustrator: James Burke
Title: A Big Guy Took My Ball!
Author: Mo Willems
Title: Cheetah Can't Lose
Author: Bob Shea
Title: The Favorite Daughter
Author: Allen Say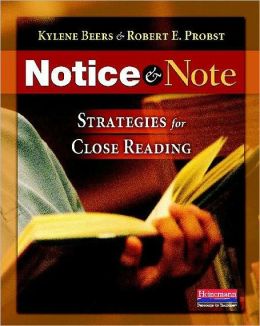 Title: Notice and Note: Strategies for Close Reading
Authors: Kylene Beers and Robert Probst
**Special Note:
Join a three part Twitter chat, discussing Notice and Note, on June 20 at 9pm #NNNchat. I also linked the picture of the book to the Facebook group, related to the chat. I started this last week, and am still working through it. So much great information, but that just means it takes me longer to read and process!